"52.4 million people in the United States went fishing in 2021. An increase of 4.5% from 2019 ." - American Sportfishing Association
Introduction:
If you own a fishing charter, you may be wondering how to set your business up for success online. Marketing your fishing charter doesn't have to be difficult or expensive. By following a few simple tips, you can get your business noticed by the right people and attract more guests.

This article is going to highlight a few ways that you can start setting your outfitter apart from your competition.
With that said, here are 6 ways you should start marketing your fishing charter today! 👊
1. Create a website for your fishing charter.
Your website is the first impression potential customers will have of your business, so it's important to make sure it looks professional and inviting. You would be surprised to learn the amount of fishing charters that don't have websites or have extremely outdated websites.
Your website isn't just a place to convey information, but it should act as a door to draw people in and let them explore more about your business.
You should include photos of your boats, pictures of happy customers, and information about your rates and services. Be sure to include an easy-to-use booking system so that customers can easily book a trip with you. One fishing charter booking software that we like is Outfitter Pro Online. It's an all in one sales and marketing tool for your business.
2. Invest in SEO
Invest in SEO. Search engine optimization (SEO) is the process of optimizing your website and online content so that it appears higher in search engine results pages (SERPs). When potential customers search for terms related to your business, you want them to see your website at the top of the list. A well-optimized website will also help you attract organic traffic—traffic that comes to your site without you having to pay for it through advertising.
There are a number of ways to improve your SEO, including optimizing your website content for specific keywords, building backlinks to your website from other high-quality websites, and claiming listings on directories like Google My Business.
3. Create compelling content
Content is king when it comes to online marketing. Your website and blog should be full of high-quality, keyword-rich content that will help you attract visitors and convert them into customers. When creating content, be sure to focus on topics that will be of interest to your target audience.
Writing blog posts about topics related to fishing can help you attract new readers to your website. These posts can be about anything related to fishing, from tips on how to catch certain fish to stories about your experiences running a charter business. If you write interesting and informative blog posts, people will be more likely to visit your website and learn more about your business.
Afterall, most fishermen are lifelong learners and always searching for ways to improve at the sport. Write content that they want to read and need to read.
You can also promote your blog posts on social media to reach an even wider audience.
4. Use Social Media
Social media is a great way to reach potential customers who might not otherwise hear about your fishing charter. Create profiles on popular platforms like Facebook, Twitter, and Instagram, and post regularly about your business. Make sure to use relevant hashtags so that people can find your posts easily. You can also use social media to run ads targeting potential customers in your area.
So many business owners think that fishing marketing is only about posting on social media. While this is a crucial part to a marketing strategy, by itself, it's not enough to drive the traffic and conversions that you need to start seeing more trip bookings coming in.
The software we mentioned above, Outfitter Pro Online, has a social media scheduler option as well so you can plan your post out ahead of time and not have to worry about forgetting to post each day.
5. Get Listed in Online Directories
There are many online directories that list businesses in specific industries. Getting listed in these directories can help you attract new customers who are looking for fishing charters in your area. Some popular directories include Google My Business, Yelp, and TripAdvisor. Make sure to create complete and accurate listings, as this will improve your chances of being found by potential customers.
There are several listing sites very specific to fishing charters as well. Global Outdoors is a great site to gain traffic and even get trip bookings from....and it's FREE! Online directories play a part in helping your SEO strategy as well by listing your NAP (Name, Address, Phone Number) in other places on the internet. This builds your authority, trustworthiness and relevance which is a key ranking factor from Google.
6. Get involved in the local community
Getting involved in the local community is a great way to market your fishing charter and attract new customers. Attend local events, sponsor youth sports teams, or donate to local charities. You can also partner with other local businesses to co-market each other's services—for example, you could team up with a hotel or bed & breakfast in the area to offer discounts to guests who book a charter through you.
While this strategy will only help you locally, it's still a good strategy to implement. I once heard someone say that
"Your Net worth is in your Network."
I can't think of anything that rings more true than that. If you want to grow your business, you need a community to rally behind you and with you.
Conclusion
Marketing your fishing charter online is a great way to reach new customers. However, it's important to do things right in order to be successful. If you follow the tips above, this is sure to get you moving in the right direction toward finding more success. For a more in depth guide on how to really step your fishing marketing up, check out our comprehensive guide below!
---
The Ultimate Guide and Checklist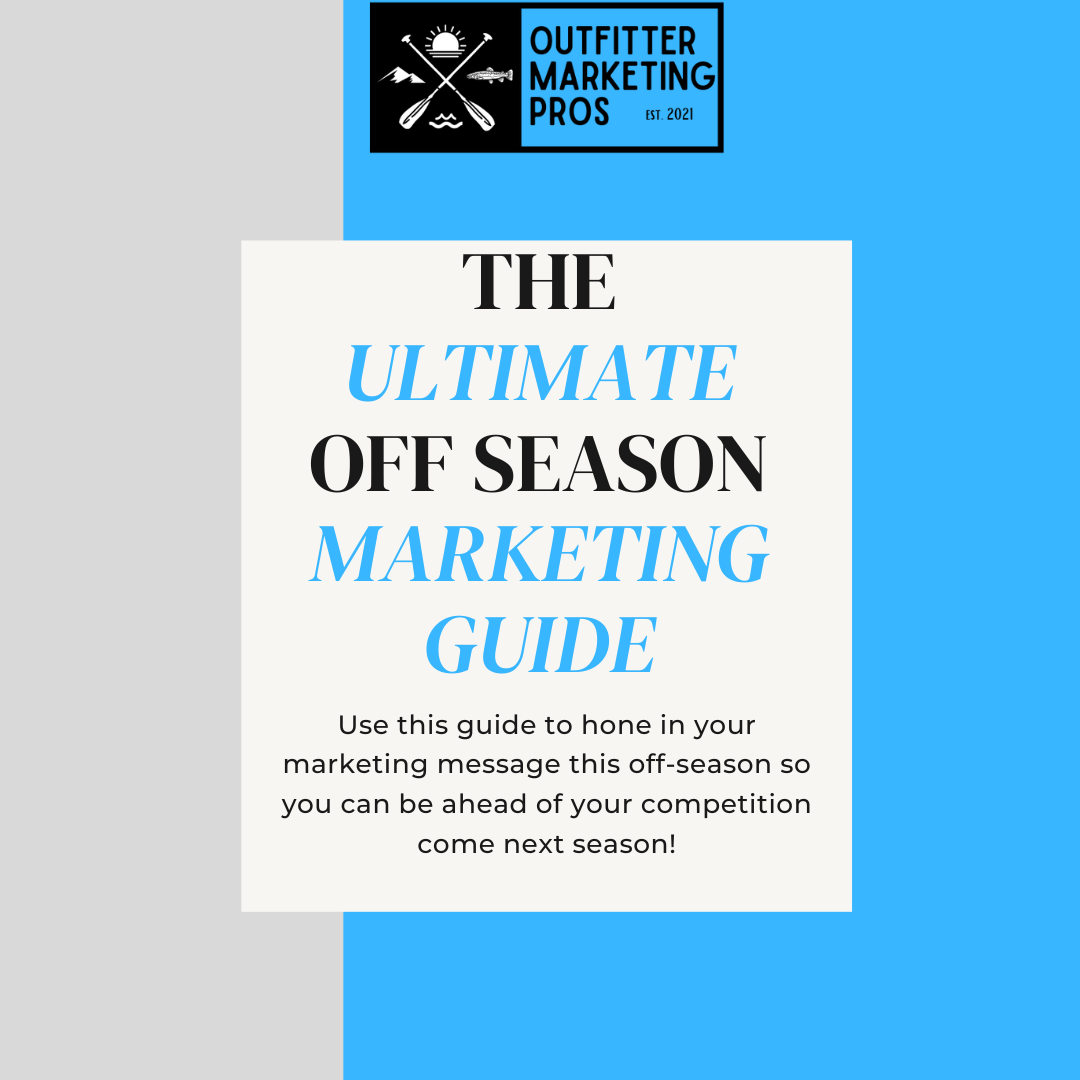 We put together the best guide for Outfitters and Tour Operators when it comes to getting their internet marketing right! If you're interested in downloading a free copy of this checklist and guide, you can click the link below to get started. It's free and will drastically help you dial your fishing marketing strategy in.